"Deep bird language is an ancient discipline, perfected by native peoples the world over. Finally, science is catching up. . ."
---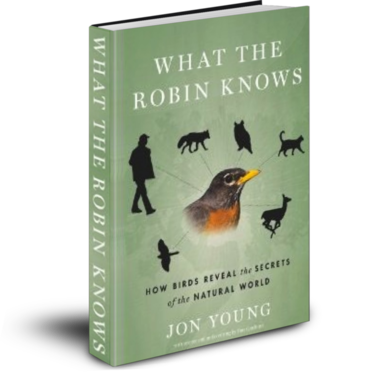 What The Robin Knows
A lifelong birder, tracker, and naturalist, Jon Young is guided in his work and teaching by three basic premises:
-The robin, junco, and other songbirds know everything important about their environment, be it backyard or forest.
Read More
Bird Language?
Interpreting Bird Language is an art form.
The calls, postures, and other behaviors of birds convey much information to those who understand their patterns. The attentive, trained observer can deduce through bird language the location of predators and other forces on the landscape.
Read More
Products
---
What the Robin Knows
Birds are the sentries – and our key – to understanding the world beyond our front door.


Read More

How to interpret the Behaviors and Patterns of Nature
Would you like to be able to recognize the signs of an approaching jogger two minutes before their arrival?


Read More

Advanced Bird Language:
Reading the Concentric Rings of Nature, a 8 CD learning journey with storyteller Jon Young.


Read More
Testimonials
---
"Jon Young is one of the heroes of the new nature movement, an expansion of traditional environmentalism who opens a door to a universe that overlaps modern life, a world lost to most, but found by some."by Richard Louv, author of The Nature Principle and Last Child in the Woods
Join Us
---
Explore bird language with FREE Ch1 of
What the Robin Knows!