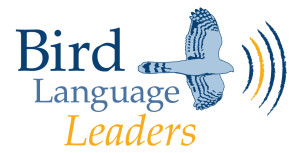 Bird Language Leaders is a new collaboration with the
National Audubon Society
intended to awaken deep nature connection through understanding the bird communication patterns in a landscape.
People of all ages can participate in and benefit from Bird Language Leaders programs, and we collaborate with a wide range of community leaders, public institutions and conservation organizations to produce relevant, engaging experiences. Our team of experienced naturalists, birders, trackers and nature connection mentors facilitate impactful experiences and spread the learning model across diverse communities.
Bird language learning opportunities are not only fun, they foster deep bonds in communities and across generations, and support participants to develop a profound appreciation of the communication networks of birds and wildlife, so they become more responsible, connected stewards of the environment.
Find out what happens at a Bird Language Leaders Workshop!
Please add your email below if you would like to receive more information about the new Bird Language Leaders Certification program. We will send out an announcement soon with the details of the program.